Loving Somebody Different Than You
On the morning after their team's upset victory over the New England Patriots in Super Bowl LII, Philadelphia Eagles safety Malcolm Jenkins and tight end Zach Ertz join TODAY live. "We're so excited to bring this trophy back," Jenkins says. "It was an unbelievable day," Ertz adds, calling the game "a full 60-minute fight."
Malcolm Jenkins Works to Lift Stigma Via Fashion Show Models
Eagles safety Malcolm Jenkins and his business partner, Jay Amin, showcased their latest collection of designer men's wear from their store, Damari Savile, with a fashion show at the upscale bar-restaurant Maison 208 in downtown Philadelphia over the weekend.
Malcolm Jenkins: Talk About the Issues Not the Protest
"It just focuses the dialogue in the right direction," Jenkins said in a conference call with the Washington media Thursday. "Up until this point, starting last year, a lot of -- even the interviews that we do -- the questions are always about whether the protest is right or wrong or whether we are disrespecting people or it's about Colin Kaepernick."
Malcolm Jenkins Passing New Legislation
The demonstrations during the national anthem across the NFL are all the buzz. President Donald Trump has pushed back on them. Cable networks are dedicating hours of programming discussing them. The issue has gone mainstream, and everyone wants to know what will happen Sunday.
Why Chris Long Broke the NFL Protest Color Barrier
Over the last year, no other white NFL player has spoken as thoughtfully, respectfully and empathetically about racism as Chris Long, and no other white NFL athlete has publicly expressed such an acute awareness of his own white privilege.
Malcolm Jenkins Criminal Justice Season
Our protests are not about the flag, our military, or even the president; it's about us, concerned citizens, trying to use our platform to make things better in America.
Check out my segment...
The Actions Behind the Protest
You've seen the headlines...But what about the reasons behind those actions? In the video above, and in their words below, both men are trying to shift the dialogue.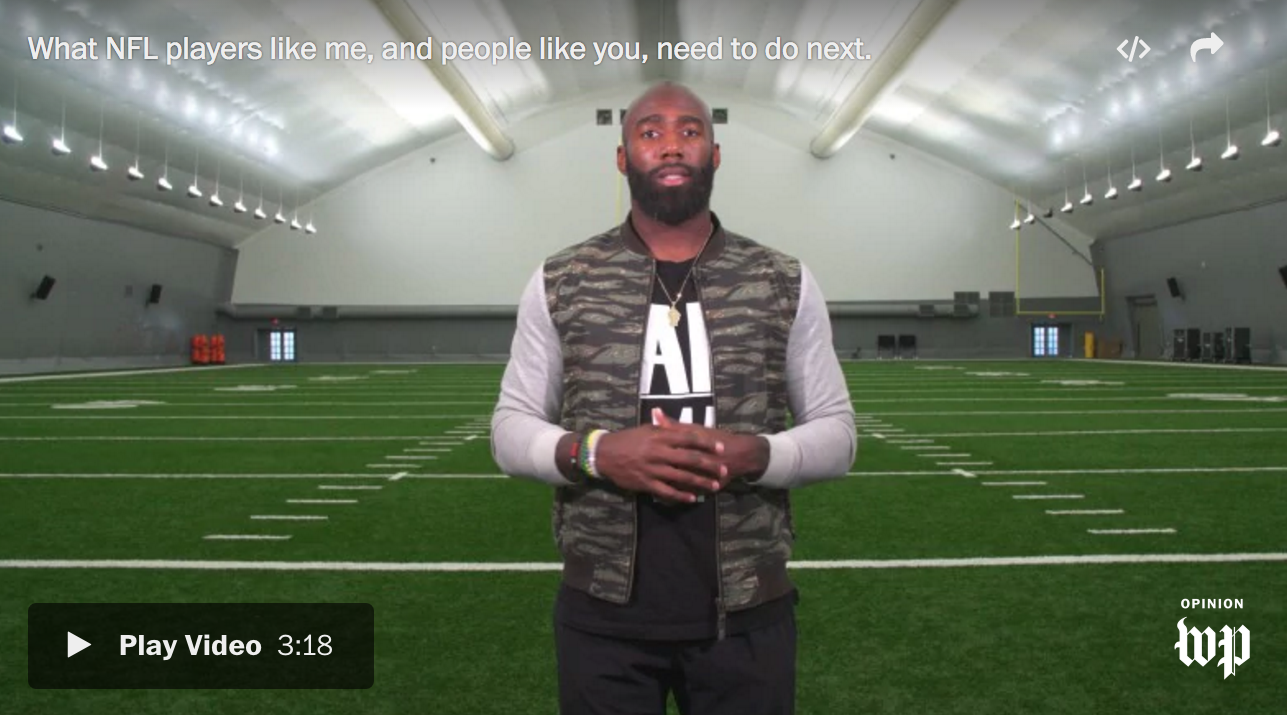 What Protesting NFL Players Like Me Want To Do Next
A year ago, I was one of several NFL players who began demonstrating in the hope of sparking conversation about injustice in our country. That effort has now grownto include players and teams across the league...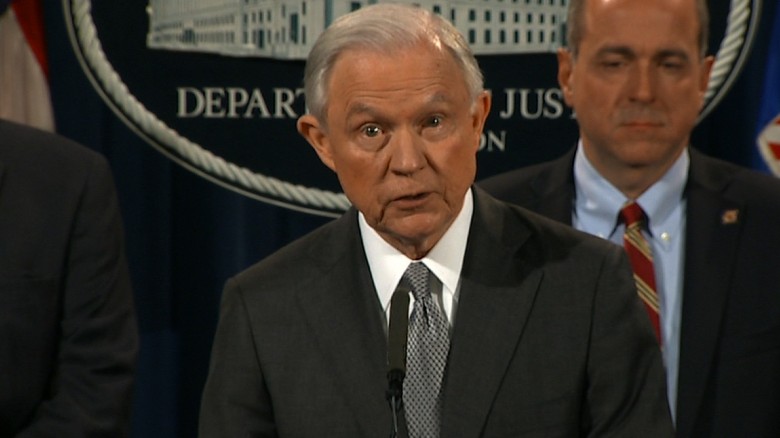 NFL players to Congress: Let's fix the justice system
Anquan Boldin, Malcolm Jenkins, Glover Quin, and Johnson Bademosi: The war on drugs is a war most of the country, unlike Attorney General Jeff Sessions, would like to end. Congress can do more to help currently and formerly incarcerated people rebuild their lives, they write
Eagles' Malcolm Jenkins: Colin Kaepernick's anthem protest 'genius, sparked conversation'
"Now that you look back at the season and what's transpired since then, I think Colin Kaepernick's decision to kneel or take a seat or to protest the national anthem was...
Renaissance man: Eagles safety Malcolm Jenkins turns love of fashion into a business
ess than an hour after the Eagles wrapped up a day of OTAs, safety Malcolm Jenkins is on the road. By 3 p.m., he is halfway across the city in the back of his new, brick-and-mortar designer menswear store, Damari Savile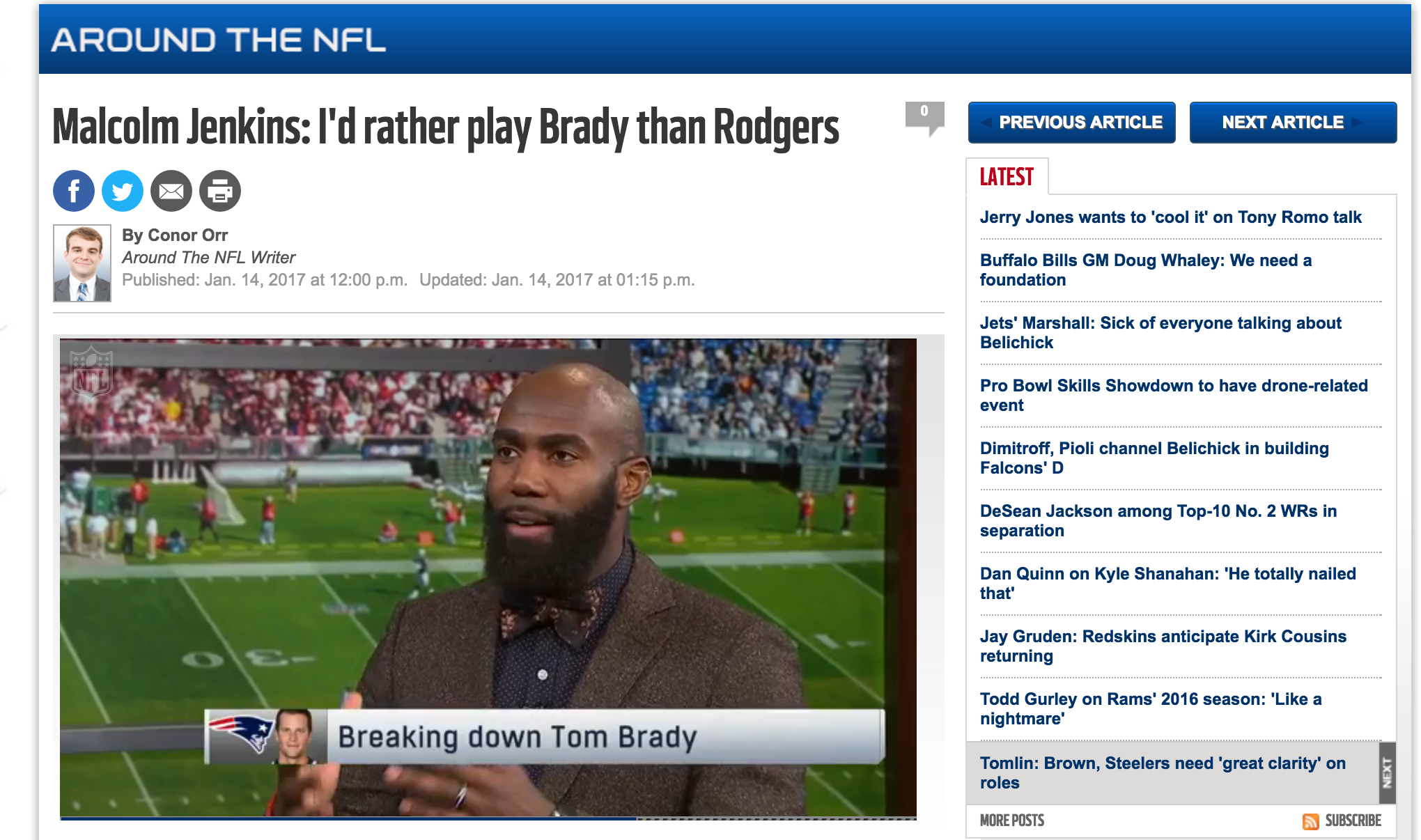 I'D RATHER PLAY BRADY THAN ROGERS
Tom Brady is arguably the greatest NFL quarterback of all time, and Aaron Rodgers is one of the all-time greats. But which player on his own presents the biggest matchup problem for a defensive player?
Malcolm Jenkins wants to leave a bigger legacy than being one of the game's preeminent safetiesNow in the eighth season of his NFL career, Malcolm Jenkins has perspective.
Safety Malcolm Jenkins was named the NFC's Defensive Player of the Week for his performance in last Thursday night's win over the New York Giants.
GETTING THE RIGHT PRE-GAME LOOK
How much does Philadelphia Eagles safety Malcolm Jenkins like his bow ties? Enough to start Rock Avenue, a tie manufacturer-and soon a full men's clothing line.
NFL Players Share Their Concussion Stories
NFL players Malcolm Jenkins, Cameron Jordan, and Charles Johnson detail their own struggles with head trauma and offer an important message: Want to really "man up"? Sit out when you're hurt.
NFLERS MEET LAWMAKERS ON CAPITOL HILL TO DISCUSS SOCIAL ISSUES, VOW FUTURE RETURN
With some NFLers ending their National Anthem protests as the season has progressed, the "off-field conversation and work continues," as five players spent yesterday in DC "meeting with lawmakers to learn more about how to enable policy changes," according to Lindsay Jones of USA TODAY.
BOLDIN HOPES TO GIVE VOICE TO THOSE THAT DON'T HAVE ONE
ESPN's Jim Trotter follows Lions WR Anquan Boldin as he goes to Capitol Hill with four NFL players to start a conversation he hopes builds a bridge between law enforcement and minority communities.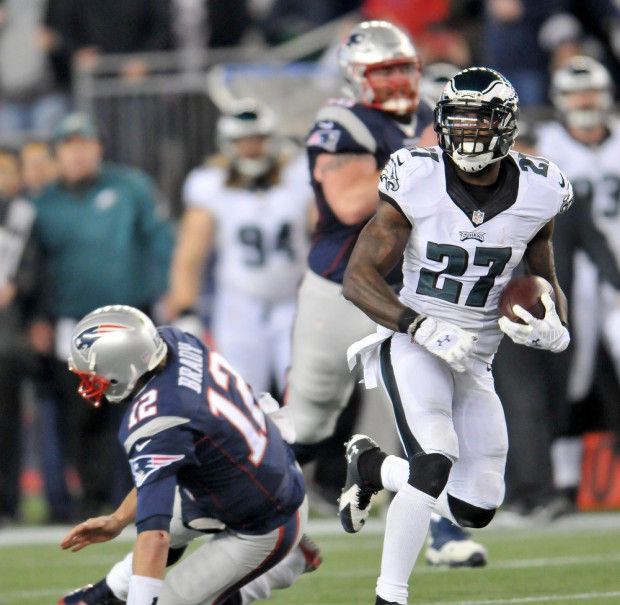 Pro Football Focus recently released their 2015 PFF All-Pro Team, which you can view here. Only one Philadelphia Eagles player made the cut this year: safety Malcolm Jenkins. (Fletcher Cox was named as an alternate.)
Read More...
By BTN.com staff - Aug 29, 2015
Life as a professional athlete can be transitory, a blur of different uniforms, cities and faces, which makes it difficult to get attached to any particular place. But Philadelphia Eagles free safety and former Buckeyes football star Malcolm Jenkins manages to make real, lasting connections no matter where he goes.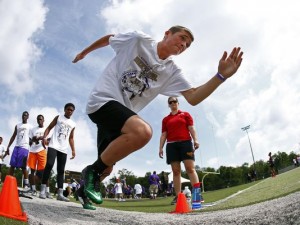 PISCATAWAY – For the past four years young football players have clamored for a chance to work out alongside and to meet National Football League professionals; Philadelphia Eagles safety Malcolm Jenkins delivers that and so much more to them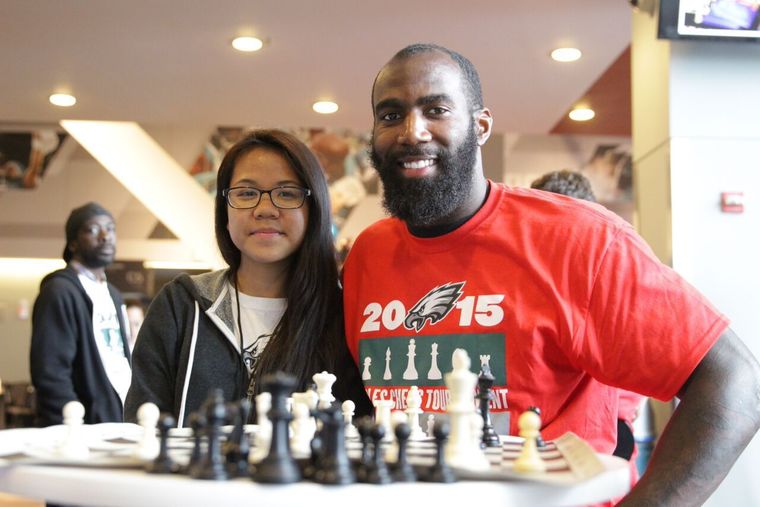 Philadelphia Eagles standouts free safety Malcolm Jenkins and linebacker Brandon Graham participated in the Eagles Youth Partnership, After School Activities Partnerships as they hosted the 12th annual on Tuesday in the Panasonic Club at Lincoln Financial Field. Jenkins and Graham had a chance to play chess against a number of Philadelphia's outstanding young chess players.
MALCOLM JENKINS MOTIVATES STUDENTS AT BLACK HISTORY PROGRAM
Philadelphia Eagles Malcolm Jenkins, joined by SWOOP, motivates students grades K-3 at North Forest Elementary, Felton, DE. The Lake Forest North Elementary School's Black History Month celebration was made extra special with a visit by Malcolm Jenkins, Safety for the Philadelphia Eagles, who was the motivational speaker for the program. Jenkins, an advocate for youth and education, was invited in his role as Founder and Chairman of The Malcolm Jenkins Foundation. Philadelphia Eagles Mascot SWOOP joined Jenkins for a very spirited Question and Answer session.
MALCOLM JENKINS – HE'S JUST THAT COOL
In the heart of Philadelphia, Jenkins melded in with his surroundings, and maintained an effortless command of the camera. Donned in neatly lined blazers and fitted pants, he made all of the threads he delved into look fluid. Of course, the perfect accessory to his duds was none other than bow-tie's from his own collection, Rock Avenue Bow Ties. According to Jenkins, this all started because "I was complaining to my wife [Morissa] saying that I couldn't find what I liked. I wanted something less stuff and more me. She said make your own."
MALCOLM JENKINS FINALIST FOR PRESTIGIOUS 'WHIZZER' WHITE AWARD
Eagles safety Malcolm Jenkins has been named one of five finalists for the prestigious Byron "Whizzer" White Award, given annually to an NFL player for community service in his hometown and the city he's playing in.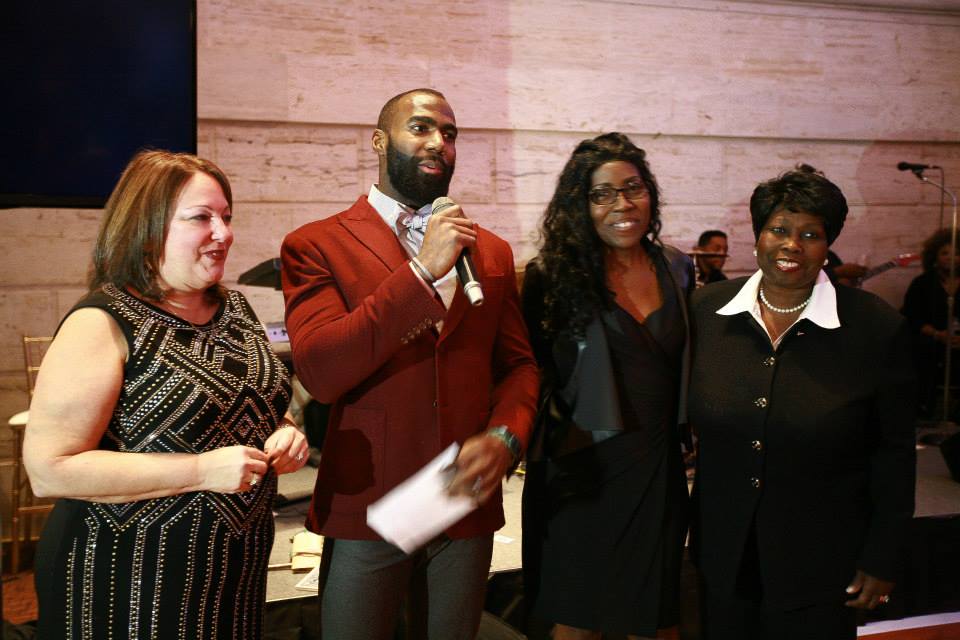 EAGLES SAFETY MALCOLM JENKINS' BLITZ, BOW-TIES & BOURBON RAISED FRIENDS AND FUNDS TO SUPPORT PROGRAM EXPANSION
The Malcolm Jenkins Foundation held its first annual Blitz, Bow-Ties & Bourbon fundraiser Monday, December 8 at the beautiful and historic Union Trust in Philadelphia. Guests enjoyed a melange of delicious chef tastings; live entertainment; fashion; collectibles; and connecting with Philadelphia Eagles Safety Malcolm Jenkins and his teammates – making it an evening to remember.
GET READY FEST™ COLUMBUS, OHIO HELPING 800 FAMILIES
Oct 16, 2014
In the United States, hunger's roots go deep and specifically in Columbus, Ohio where 22 percent of households live below the poverty level and are at risk of going to bed hungry. That's why The Malcolm Jenkins Foundation and Teleperformance have partnered with Feed the Children to kick off "GET READY FEST" Columbus– an event that provided 800 pre-identified Columbus–area families in need with wellness resources, food and essentials. On October 17 between 10 a.m. and 2 p.m., Get Ready Fest sponsors and volunteers met at Second Baptist Church at 186 N. 17th Street in Columbus to offer a number of activities and distributed food and personal essentials, as well as an overall day of fun for youth.
THE MALCOLM JENKINS FOUNDATION, OMEGA PSI PHI, AND FEED THE CHILDREN HELP 800 FAMILIES AT PHILLY'S "GET READY FEST™"
Jul 20, 2014
On Friday, July 11 The Malcolm Jenkins Foundation partnered with Feed the Children and Omega Psi Phi Fraternity, Inc. to host the "GET READY FEST" at Deliverance Evangelistic Church. Together, they established this community outreach event to support families by providing food, personal care products, clothing, fun, as well as wellness resources to 800 Philadelphia-area families.
MALCOLM JENKINS, JONATHAN CASILLAS, JASON WORILDS: THREE SPECIAL ATHLETES, PEOPLE
Jun 22, 2014
The camp featured NFL players who flew in from all over the country using their own money and who were out there sweating while going through drills with all the campers. Each player gave a inspirational speeches about their journey to the NFL and about the importance of education and giving back to the community.
May 08, 2014
While both his new and former teams were investing in their futures on the first night of the 2014 NFL draft, Philadelphia Eagles safety Malcolm Jenkins was infusing money into something else: the college educations of 10 high school seniors from the New Orleans area. The Malcolm Jenkins Foundation donated $2,500 to each of the students — $25,000 total — during an event Thursday at the Mercedes-Benz Superdome's Club 44.
Feb 25, 2014
Mu Lambda Kappa (MΛK) mentoring program was started at Dr. King Charter School in 2009. Eight concerned male staff members started the organization in an effort to provide guidance to the high school students and to encourage them to pursue college degrees. The goal is to train the high school students to become respectable young men. Assistance with academic and social skills is provided by the mentors. All male staff members are eligible to provide mentorship to the students.
Dec 13, 2013
On Friday, Dec.13, New Orleans Saints players Roman Harper, Lance Moore, Pierre Thomas, Jahri Evans, and Malcolm Jenkins are being honored at IrvingMorris and United Way of Southeast Louisiana's 3rd Annual Hope for the Holidays Gala presented by Cox Oil at the Hyatt Regency New Orleans.
Jul 09, 2013
In a hallway next to a lecture hall at Piscataway High School Saturday morning, a seven-year-old football player had New Orleans Saints' free safety Malcolm Jenkins' sole attention. He had some questions he wasn't able to sneak in during a question and answer session Jenkins had given in the hall to a big group of campers, participants in the second annual Malcolm Jenkins Foundation camp.
Oct 02, 2012
"My wife and I attended the Malcolm Jenkins Foundation's Taste of New Orleans". Malcolm and his wife were extremely gracious hosts. The food was provided by some of the city's top restaurants. Also on hand were several of the Saints players. Malcolm and the players were very accommodating and patient with the Horde of fans who were present. The highlight of the evening was a young man who was a freshman at UNO, thanks to the mentoring and financial help from the foundation. A round of applause to Malcolm Jenkins; a son of New Jersey, a product of the great Ohio State University, a member of the Saints, and a genuinely fine example of a man. A great night for a great cause."
MALCOLM JENKINS – RECIPIENT OF THE 2012 JESSE OWENS INFLUENTIAL ATHLETE AWARD- OSU AAAS
Oct 02, 2012
This exceptional recognition is awarded biennially to an African American alumnus and former Ohio State student-athlete who exemplifies great character and talent, demonstrates exceptional professional success, and continues to reflect the highest qualities of a consummate athlete and humanitarian.The award is scheduled to be presented during the All Decade African American Alumni Reunion Gala on Friday, Oct. 5, 2012.For more information on the African American Alumni Society go to http://osuaaasociety.org/aaas-awards
Feb 1, 2012
Verizon Wireless will spotlight seven influential African-American leaders in a unique online program, "Celebrating Your Story: Powering Your Network" throughout the month of February. The multimedia initiative launches today and includes a series of candid video vignettes featuring Pastor Marvin Sapp, Dr. Steve Perry, DJ Beverly Bond, The Three Doctors, actor Laz Alonso and sports figures Tia Norfleet and Malcolm Jenkins.